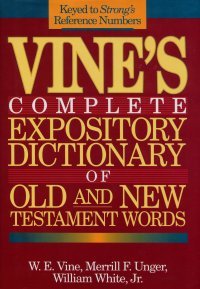 Vine's Complete Expository Dictionary of Old and New Testament Words
Highlights
Discusses over 6000 Biblical words in their original Greek or Hebrew context
One of the most popular resources for Original Language Study
No knowledge of Greek and Hebrew required
Keyed to Strong's numbering system
Enables you to 'mine the riches' of your Bible more deeply
Named as one of the 850 Books for Biblical Expositors by the Master's Seminary
Product Details
Vine's Complete Expository Dictionary of Old and New Testament Words makes it possible for the student with substantial, limited, or no background in either Greek or Hebrew to study the meaning of biblical words in the original languages.
English equivalents are listed alphabetically throughout the text, along with either Greek or Hebrew words from which they are translated. Various shades of meaning, plus Scripture passages illustrating particular usages, are also included. Vine's Complete Expository Dictionary of Old and New Testament Words is organized in such a way that it becomes at once a dictionary, a commentary, and a concordance.
WORDsearch utilizes this dictionary based on the Strong's Numbering System. This system allows any reference work to automatically link other reference works based on the same system. At a glance you can compare multiple entries in dictionaries and lexicons with a single mouse click.
About the Editors
William Edwin Vine was born in the 2nd quarter of 1873, in Blandford Forum, Dorset. He became a Christian at an early age and was baptized in the Plymouth Brethren assembly in Fore Street, Exeter. At the age of 17, Vine became a teacher at his father's school, before moving to Aberystwyth to study at the University College of Wales. He later completed his education at the University of London, receiving a BA and MA in Ancient Classics, in 1906.
Vine began his writing career in 1905, when he conducted a correspondence course, along with C.F. Hogg, for 1 Thessalonians and Galatians. He is best known for his work Vine's Expository Dictionary of Old and New Testament Words, first published in four parts, in 1940. This lexicon traces the words of the King James Version of the Holy Bible back to their Ancient koine Greek root words and to the meanings of the words for that day. Vine also wrote a number of commentaries and books on biblical subjects.
In 1909, he accepted a job at the office of Echoes of Service, a missionary support service and magazine, based in Bath. In 1911, the service moved permanently to Widcombe Crescent, Bath. The 1911 census shows William as the Vice Principal of Mount Radford School in St Leonards, Exeter. Vine dedicated himself to his work with missionaries around the world and was firm in his doctrine and practice. At this time, Vine was an Elder in the assembly at Manvers Hall, Bath, a position that he held for 40 years. He was diagnosed with heart disease, in 1927, but lived until 1949.
Merrill Frederick Unger(1909-1980) was a Bible commentator, scholar, and theologian. He earned his A.B. and Ph.D degrees at Johns Hopkins University, and his Th.M and Th.D degrees at Dallas Theological Seminary. After serving as a pastor at several churches, Unger taught for a year at Gordon College. For the next 19 years he was professor of Semitics and Old Testament at Dallas Theological Seminary. Unger was a prolific writer who authored some forty books many of which are well received in Christian colleges and seminaries. Unger was also a well known Biblical archaeologist.
William White Jr. is a specialist in Biblical languages and the history of science. He edited The Bible Almanac and also served on a board of editors for the NKJV Bible.
Endorsements
Vine's Expository Dictionary of Biblical Words has been one of my favorite study tools for years.....and the new edition has proved to be even more helpful because it includes key words from the Old Testament. The fact that the new edition is coded to other Greek and Hebrew study aids makes it a great time saver for the busy student.