Exegetical Dictionary of the New Testament
All 3 Volumes
This title works with the following Wordsearch products
Desktop
Highlights
Named as the Master's Seminary's 850 Best Books for Biblical Expositors
Product Details
The English translation of the three-volume Exegetisches Wörterbuch zum Neuen Testament, this monumental work by an ecumenical group of scholars is first of all a complete English dictionary of New Testament Greek. Going beyond that, however EDNT also serves as a guide to the usage of every New Testament word in its various contexts, and it makes a significant contribution to New Testament exegesis and theology. EDNT's thorough, lengthy discussions of more significant words and its grouping of words related by root and meaning (with alphabetical cross-references) distinguish it from simpler Greek-English lexicons. Advancing the discussion of the Theological Dictionary of the Old Testament, EDNT summarizes more recent treatments of numerous questions in New Testament study and takes into consideration newer viewpoints of linguistics.
About the Authors
Horst Balz is a professor of New Testament theology and history at the University of Bochum in Germany.
Gerhard M. Schneider....
Endorsements
A superb New Testament dictionary, translated and adapted from the famed German original. Both students and scholars will welcome this reference tool. It covers each Greek word in the New Testament, offering a translation plus succinct information on usage, background, and further bibliographical references.
This is a solid reference work, one that not only scholars but also pastors and students can use with benefit.
Products Included In This Bundle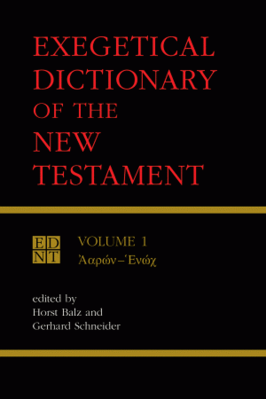 Exegetical Dictionary of the New Testament Vol. 1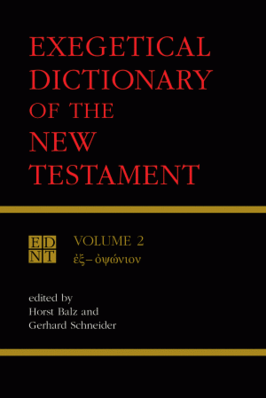 Exegetical Dictionary of the New Testament Vol. 2
Exegetical Dictionary of the New Testament Vol. 3