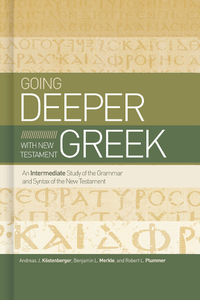 Going Deeper with New Testament Greek
An Intermediate Study of the Grammar and Syntax of the New Testament
Product Details
From their decades of combined teaching experience, Andreas J. Köstenberger, Benjamin L. Merkle, and Robert L. Plummer have produced an ideal resource enabling students to improve their skills so they may properly read, exegete, and apply the Greek New Testament. Designed for those with a basic knowledge of Greek,
Going Deeper with New Testament Greek
is a user-friendly textbook for intermediate Greek courses at the college or seminary level.In fifteen chapters, students learn Greek grammar and how to interpret the New Testament in a way that is accessible—and even fun. Also included are chapters on the Greek language and textual criticism, verbal aspect, sentence diagramming and discourse analysis, word studies, and continuing with Greek.
Unique features include:
Practical examples illustrating how knowing the content of a given chapter can guide proper interpretation of Scripture.
Practice sentences and vocabulary lists, including all the words that occur fifteen times or more in the New Testament.
Selected texts from every New Testament author for students to translate along with detailed reading notes to guide interpretation of each text.
Summary charts to help students review material, serving as a handy study guide and quick reference tool.
About the Authors:
Andreas J. Köstenberger is senior professor of New Testament and Biblical Theology, Southeastern Baptist Theological Seminary, Wake Forest, NC and director of acquisitions, B&H Academic.
Benjamin L. Merkle (Ph.D., The Southern Baptist Theological Seminary) is associate professor of New Testament and Greek at Southeastern Baptist Theological Seminary.
Robert L. Plummer, Ph.D., is professor of New Testament Interpretation at The Southern Baptist Theological Seminary and host of the Daily Dose of Greek screencast. He is the author or editor of several books, including
40 Questions about Interpreting the Bible, Journeys of Faith,
and
Paul's Missionary Methods
.
Endorsements
Going Deeper with New Testament Greek is certain to become a standard among intermediate Greek grammars. Not only is this grammar readable and grounded in exegesis, but it includes a number of features not normally seen in this category, such as a built-in Greek reader, vocabulary lists, exercises, summary tables, and guides for discourse analysis, textual criticism, and word studies. Informed by the latest research on topics such as verbal aspect and the middle voice, the grammar also incorporates the best of traditional grammatical approaches. Going Deeper is up to date, built for the classroom, and aimed at careful exegesis of the Greek New Testament. While I differ on some points, it is my first choice for the classroom.
Going Deeper provides the teacher and student an intermediate grammar designed for their specific needs. While it can function as a reference grammar, it works best as a book to be read from cover to cover. Its many unique features such as the narrative introductions, vocabulary lists, and biblical texts for reading encourage the student to not only learn but apply what they have read. I am particularly grateful to see the final chapters on sentence structures, grammatical diagramming, and discourse analysis. When you add in its substantive interaction with Wallace's grammar, it makes Going Deeper an excellent intermediate grammar.
In recent years there has been an explosion in the study of Greek syntax, but it is difficult for new students to know the terrain. Kӧstenberger, Merkle, and Plummer have written a wonderfully clear text which I think will become a standard in the field. The book is a 'one-stop shop' so that everything students need to know in a second-year Greek course is contained here. It seems strange to say that a Greek grammar is a delight to read, but if that can ever be said about a grammar, it applies to this book! Professors and students will profit remarkably from this outstanding work.
There are many beginning Greek grammars and some few reference grammars, but there are not that many works which help students in the transition from learning paradigms and elementary Greek syntax to reading the Greek of the New Testament. Going Deeper with New Testament, authored by three experienced Greek scholars, is such a transitional book that combines some intermediate syntax discussion with selected readings in the New Testament. The readings are followed by detailed notes on the grammar, translation, and interpretation of each verse in the selection that will be of immense help to students and will also provide valuable review for pastors and others who want to refresh their knowledge of Greek. This text is a welcome addition to any Greek student's library.